Barbara shared her experience with
BlogTwiBrasil
.
We've done a rough translation for you.
The day was cold, but all the fans were waiting for him to arrive, girls had been waiting since noon, I got there around five. I met another Brazilian, who was also there to make her big dream come true!
I always joke with my friends that if I were face to face with Rob, I would not pass up the opportunity to ask him to marry me. After watching on TV that the premiere was scheduled to begin at 7:15 in the evening, I thought the stars would start arriving at around 6:30 pm, but then the time arrived and Robert did not appear at all. Other local celebrities began to walk down the famous red carpet, then around 6:50, Reese Witherspoon appeared very fresh with her beautiful green dress, and gave interviews to local media.
At around 7:05, we heard many, many screams and knew the beautiful and wonderful Robert Pattinson had finally arrived. He wore a light blue suit, breaking the dark suit look of his previous premieres. He's super shy, very shy actually. He began to talk to the press and after a few minutes of doing official photos he began to meet with fans standing near the press area.
I was still quite a distance from where he was, and I thought that I would not have the opportunity to speak with him, since he walked with a lot of security guards hired for the event, and of course his personal bodyguard Dean, who was at the other side of the red carpet in front of where I was. At the time I thought, "I will not get it, oh my God."
But after he took several photos with people I screamed at him, and showed him a Brazil shirt with the number 10. Astonished, he walked over to where I was. At that time I did not know what was really happening, he said "Hello" and I asked him to sign my shirt, and as he did, I gathered my courage and asked him "Will you marry me?" and right then I accomplished my dream of asking Robert Pattinson to marry me. He simply smiled and did not respond, which was a shame. In the end I asked him to take a picture with me, and adorably he said "of course."
By the way, when it was time for the long awaited photo, my friend was not at his best to take the picture, so the one I took came out okay, Rob was charming, with flushed cheeks and said thank you, looking straight at me!
I was very lucky to have seen him here in Australia, because the public behaves, it's not the hysteria that exists in other places, everyone was happy to see him, but not as hysterical as in other parts of the world. Fans need to realize that he is very simple and shy, was very courteous to all, took many pictures, went through the red carpet on both sides trying to reach the maximum number of fans, always smiling.
Thanks for sharing Barbara!
A few more new pictures from fans at the premiere that night.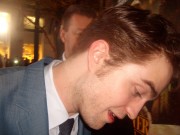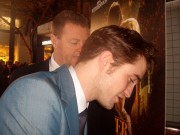 Don't miss the
rest of our coverage
from Sydney!