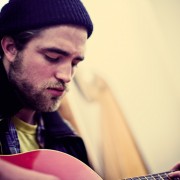 Click for larger size
Sofar Sounds
has released the full recording of Rob's performance in 2010:
An impromptu performance by Robert Pattinson at a past London 'Songs From a Room' secret living room gig. One of the many 'Sofarsounds' events that showcase new artists and give musicians a chance to be heard in an intimate setting. Sofarsounds have recently launched their 'Kickstarter' donations appeal to give fans a unique way of supporting new artists and become part of their international movement.
Rob Pattinson performs at Sofarsounds July August 2010
by
Sofarsounds
This is the previous clip we had seen and heard of his performance. Thanks Sofar Sounds for releasing the rest! - Read
how you can support
the cause.
via
Robsessed