MeggieCullen16
is a lovely fan who is sharing her story after meeting Rob in Brussels. Read her account below :)
I'd never thought my dream would come true but on October 26 it did..
After long days of begging, my mom bought the tickets for the event in Brussels! It was so hard to believe I would really meet him in person. See him standing before me instead of looking at a picture of him.
And finally, the day was there. At 12.30 pm we were in Brussels. It wasn't so hard to find. We just walked the whole Ravenstein street from number 56 till number 2. There we already fences and a group of fifteen people standing there but there was still so much space left so we could stand where we wanted to. I thought there would be a lot people speaking Belgian, but almost all of them were speaking French.. Look I have French class on school but I'm not so damn good at it. Luckily, I had my mother with me ;) Suddenly, one of the security guards said something in French. We could understand what he meant, because he indicated with his hands. Rob and Ashley wouldn't come where we were standing ;O.. only by the double fences. We were very lucky there was still place there and we still stood in the front. Someone I met on Hyves was suddenly standing next to me. That was very funny and we talked the whole 6 hours about twilight and sang the songs with each other. I took a photo from the site ThinkingofRob with me so Robert and Ashley could sign it. Very glad I did. Every journalist made photos of it and I had a couple of interviews with Belgium tv channels. One asked me what I liked so much about Robert Pattinson.. I told them because he is so kind with his fans, very down to earth and of course very hot and a very good actor :D Yea, that was fun and I was a lot more relaxed about everything after such an interview. There were a lot of French fans behind us pushing us to the fences before Rob and Ashley even arrived but.. everything for Rob!
Finally at 6.30 pm the cars arrived and everyone including me were screaming. When we saw him wave to us in his car, we completely lost it for a moment. After he got out of the car immediately he walked in the direction were I was standing. And all of a sudden when he was standing before me I was so calm, not nervous at all. Like I'd known him for years. That was a weird but amazing feeling. I was literally locked to the fences but it was all worth it. He signed the photo and I gave him my camera to take a picture with me, he also took my mother's camera and made a picture from himself and me, so now I have two beautiful pictures with him and Ashley also signed the photo :) Not only I brought the photo with me, I'd also bought two bags of M&M sweets because Robert is addicted to these sweets. But when I wanted to give it to him, his bodyguard wouldn't accept it :S Still, I was very happy with what I got.. Not everyone has the chance to meet The Robert Pattinson ( and Ashley Greene of course ;)) get an autograph and even take a picture with him. And the reason why I wanted to meet him is not only because he's The hottest man that ever walked this earth, it's because he's such a nice guy if I see him on tv. And always so funny, he just says everything what pops up in his head.. That's what I really like about people and I do it myself too.. I think I just wanted to see it before my own eyes. And it's true.. he's like I imagined he would be.. Just the sweetest guy ever!! Okay, I'm getting off track now.. or maybe not, it's still about Him right ;)
Well, after they walked the red carpet, they said hi to us like you all have seen on the videos ;) They got inside the fan event and the big screen outside started with the BTS clip form Breaking Dawn!! I thought we wouldn't see that and after this we could follow the whole fan event what was happening inside :D Unfortunately I couldn't watch everything because the last train back home was at 20.22 so whe had to leave earlier. My mom was already walking towards 'the end of this day' but I stayed as long as I could, watching the screen where they were on. Eventually I followed my mom and I heard his voice almost the whole way to the train station..
Thanks for sharing!
Here are some more fan pictures from all of Rob's recent promo stops for you to check out :)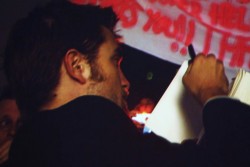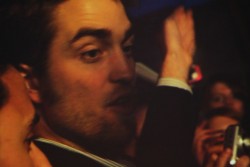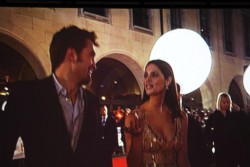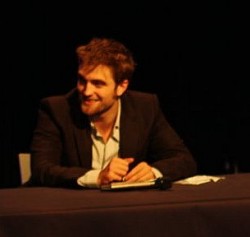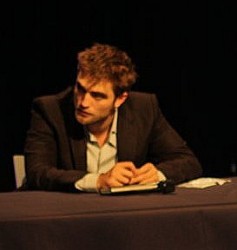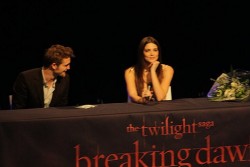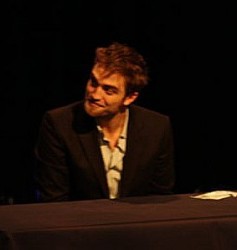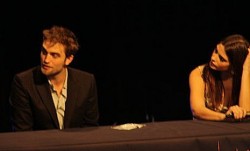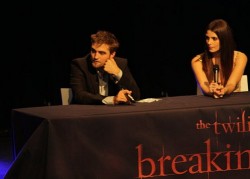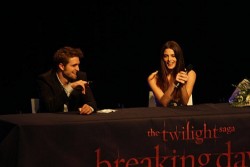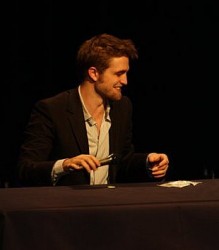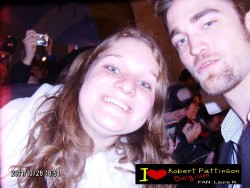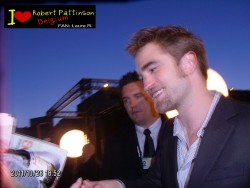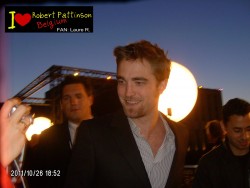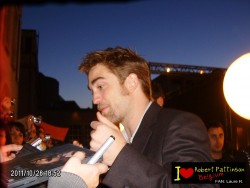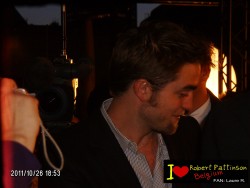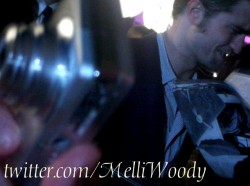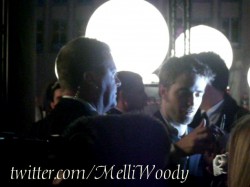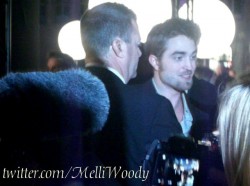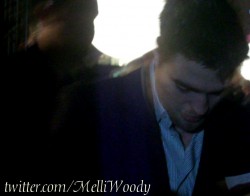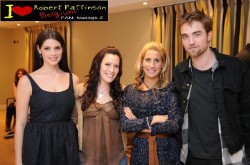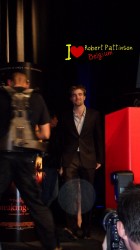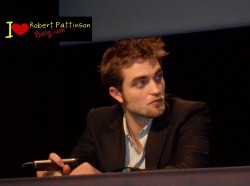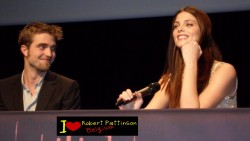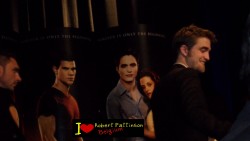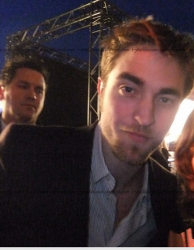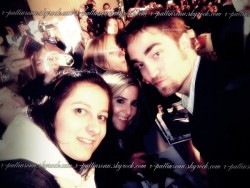 More to come!
via
source