If you want to catch up on everything before this post,
check here
.
UPDATE 11/20
: Added Film Ink scan (Rob talking about being a script doctor and older fans).
UOL Brazil
Metromix.com
iVillage
Telever
Los Angeles Daily News
(click to read)
THR
Want Rob on twitter? don't hold your breath..
Stockholm press (Rob talks about writing screenplays)
Heart Radio UK
Movie Tickets -
Click to watch
or below
Seattle Times
Sky Italy
Le Matin (France)
Kristen talks Rob
Teen.com
Kristen talks about how good Rob was with the babies on set (adorable)
One News (New Zealand) -
Click to watch
.
Film Ink
(updated w/scan w/new quotes at the end, Rob talking about older fans)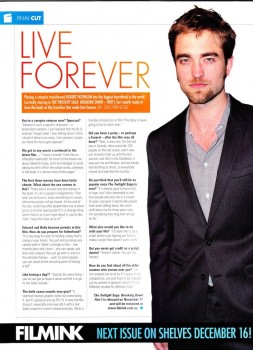 Orlando Sentinel
Love Film (watch Taylor's and Kristen's
here
).
Top Billing (Rob talks taking his shirt off and Bella's wedding dress).
Chicago Sun Times
(Rob's) - Kristen also talks about him in
her interview
.
Manila Bulletin
The Scotsman
Welt.de (via Britt and RPLife)
Welt.de "People greet me while peeing"
"Twilight" actor Pattinson on the vampire hype and his new film
Welt Kompakt: Three years ago the "Twilight" hype began. Were there moments when you offered resistance?
Robert Pattinson: Yeah, at the very beginning when I had to attend a media advisory for interviews. The film producers were very peeved at me. Because the coach said: 'Rob ruins everything.' I've teased them all. There you should practice how to summarize the content of your film in ten seconds. And it doesn't matter what you say, the main thing, it is short. Or we had simulated interviews where the guy said to me: "Hi Rob, I'm James from CNN ..." I just laughed: "But you're not James from CNN!" I thought to myself: If I play a vampire, I can do what I want.
Welt Kompakt: Now you have wrapped all the movies. Are you happy when the madness is over?
Robert Pattinson: How I feel, I can say to you in a year. Because then the very last part will be shown in the cinemas. Until then, I have to promote. I just can not imagine yet. To me it seems as if there was only "Twilight" in my life. But I myself am curious how other people see me in the future. For the entire three years I have spoken repeatedly about the same topics.
Welt Kompakt: What annoys you about the hype?
Robert Pattinson: It's still a bit of getting used to if there are 400 fans in front of your hotel room calling your name until three o'clock in the morning. Then they pause exactly four hours and then it starts again. And once you show your face, they stand there in complete silence. I'm sure if any of them would be alone, he would never do that, it would be embarrassing for him. But there are many of such bizarre episodes: When I was peeing in public toilet, 20 people suddenly came up to me and wanted to greet me. I could only say: "Wait, I've not even washed my hands."

Welt Kompakt: But it could be worse.
Robert Pattinson: That's true. Really annoying is just one thing: Once you make it big, then you also have a large number of people who hate you. When I googled myself before "Twilight", every comment was positive. But once your picture shows up everywhere, then that drives some people crazy. Fortunately, there is also an army of fans who defend me. This is almost like a sports team.
Welt Kompakt: Still googling yourself?
Robert Pattinson: Only for practical reasons. To find out if I said something stupid in an interview. So I can limit the damage.
Welt Kompakt: We know that you are together with Kristen Stewart. But could you actually still ask a girl for a normal date?
Robert Pattinson: That gets totally difficult. There are many girls who openly hit on me. But they don't understand that that is totally unsexy. I know for a guy it's such a ridiculous statement, but before the "Twilight" movies, nobody wanted to know about me. Logically, you know that now you can't take it quite seriously. I started to distrust people. But that's also not easy. Because some people who want to talk to me are really nice. I must be careful that I don't mistrust the wrong person.
Welt Kompakt: And how do you find out the difference between those who earn your trust, and those to whom you give the cold shoulder?
Robert Pattinson: If I give someone my number, and the person did not call back. Then I can trust. And who's calling me the next day, I never want to talk anymore! (bursts into laughter).
Aftonbladet (via Maria and RPLife)
Aftonbladet.Se HOLLYWOOD.-Robert Pattinson has flown all around the world to promote the fourth and latest part of "Twilight". Back in LA the 25-years old teen idol share his reflections of his visit to Sweden.
- "I stayed at a really nice hotel with a fantastic view over the sea."
When Nöjesbladet meets Pattinson at a luxurious hotel in LA he is very tired after the time changes between the continents he has visited. But, he really enjoyed his visit to Sweden.
-"I did very typical, Swedish things" he says with a grin on his face.
Nöjesbladet Like what?
"I ate a lot of meatballs. But I actually didn't have much time to do anything."
He did have some time to go to Cafe Opera in Stockholm. Fan pic of Rob at Cafe Opera
-"Yeah, that was actually very fun. I wasn't planning on going there but was talked into it."
Nöjesbladet Didn't you want to go?
- "The funny thing with these PR- trips is that everybody wants you to go out and do things. They always say 'You can't just sit in your hotel room all the time'. They don't get that I cannot leave my room!"
He is refering to the huge attention the success of the movies have created and the thousands of fans that would do just about anything to meet him.
"Usually everybody else goes out and do stuff while I never get to see anything of the cities we visit. But, I had a really nice hotel room and I'm very glad I decided to go to this party because we had lots of fun."
Nöjesbladet So this mass hysteria around you as a person is your every day life now?
"Yeah that is always nice. The more movies we make, the more recognized we get. That people without any reason at all comes up to you and say that they like you is usually a good start. You learn to like that a lot."He laughs. This whole thing is still rather strange to me. If you ever get sick of people liking what you're doing then I don't see what you should live for."
Reelz Channel -
Click to watch
Coming Soon (Italy) -
Click to watch
50 Minutes Inside (France)
They get married and then finally they do ... well you know what. I mean we've been waiting 3 movies for this, You took your time, Rob.
Rob:
I was like why didn't they just watched a porno. But really it was an important scene for us because it's not detailled in the book.
It's pretty violent, isn't it?
Rob:
Well it's sort of passionate, like intense love making.
Are you that brutal in your sex life?
Rob:
Absolutely, I've smashed many walls.
Your hotel room is going to be a disaster tomorrow?
Rob:
It's everywhere, even when I'm by myself.
Vampires are in right now. Remember how I dressed up with Nikkos at the Dracula Premiere. So I tried to be one of you.
Rob:
It's good.
It's good, it's not too old fashioned?
Rob:
No, no, it looks very realistic. You look a little bit too brown tho, like a vampire from Nice.
M Magazine (Austria)
Robert Pattinson: Sex for the first time
M: After hearing from Kristen how she felt about the end of the Saga, the unavoidable question also for you: How did you feel on the last day of shooting?
Robert:
To be honest, that day was miserable. We'd been shooting for two weeks, in Canada, in the cold. Then again, the last day in St. Thomas in the Carribean was an absolute dream. That was the only time we were shooting in bright sunset. That was really our really last day of shooting. We shot on the beach and went into the ocean – yeah, that was amazing… [lacht]
M: And how was the mood?
Robert:
In Canada we were 120 actors on set, on the last day of shooting. In the Carribean it was just Kristen and I. We finally did all the stuff we couldn't do during shooting. Sitting by the sea while the sun sets – it was just beautiful, to end it like that.
M: Kristen claims that she isn't sad that Twilight is over. Do you share her opinion?
Robert:
I don't know. Because we're constantly promoting the movie and talking about Twilight, everything is still really present for me. Please ask me after the second part has been released, because that's when Twilight really is over.
M: How do you deal with the hype?
Robert:
A little hype doesn't harm anyone, especially nowadays. I'm more interested in how long the hype will last, to be honest. How will people perceive me a few years from now?
M: How do you see your influence as an element of popculture?
Robert:
There certainly is an influence. The amount of vampire movies that came into being after Twilight… that's how you see that it's a real phenomenon. None of us ever saw the magnitude Twilight would have coming. The influence on the popculture, the last thing that had such an influence was Harry Potter. The special thing is that, especially in the last books of Twilight, we see the wedding, the honeymoon, the pregnancy and birth in the perspective of a woman.
M: How did you deal with the shooting of the birthing scene?
Robert:
That scene was extremely difficult. The movie is PG-13 and the restrictions for that are very strict. No blood can be shown. The birth in the book is described very explicitly though. The shooting was bizarre, I can't think of a better description for it. We used ice, cottage cheese and jello – it was disgusting. The baby was just a few weeks old and had to fight its way through that thing, that represented the placenta. It was gross and I just thought, what a horrible introduction into the world of acting. I don't think the baby will ever want to be an actor.
M: We also see how differently men and women deal with these kinds of problems and situations.
Robert:
Absolutely. We have sex for the first time, and the consequence is a pregnancy, which Edward wasn't expecting at all. Additionally to that, Edward does look like a young man but he's probably 105 years old. He hates himself for not thinking for even one single moment that Bella could get pregnant when he sleeps with her. Edward thinks that he poisoned the person he loves more than anything on this world with his thoughtlessness. That fear and that hate directed towards himself are understandable.
M: How did Twilight's success change you?
Robert:
I became an actor coincidentally. I kinda stumbled into it. That's why, at first, it was more of a experimenting and learning experience. I didn't have a clue where I'd find myself at the end of the movie. You don't learn your job overnight and you don't wake up, being a pro.
M: Were you scared that you'd be remembered as Edward only?
Robert:
Yes, of course. But I came to terms with it when I said, I did well as Edward but that's over now. All I can do is continue to experiment with roles and that's cool.
Moviefone
KTLA
The Herald Sun (Australia) -
Click to read
.
Philippine Daily Inquirer -
Click to read
.
Star Talk (Philippines)
Dutch TV (
RTL
)
Full T4 Interviews (
Watch Rob's on YouTube
or below)
Taylor talks Rob (2:30)
Kristen talks Rob and sex scenes in Breaking Dawn (1:50)
Epoca (Brazil)
Unlike most actors, the English Robert Pattinson, 25 years of old, thinks ex scenes are easy. There are other things that are scarier: having to appear shirtless or doing comedy, especially in TV Shows like Saturday Night Live, as he told Epoca in two interviews: one as a roundtable and another exclusive one:



EPOCA - All actors say that sex scenes are very awkward to do, you always have a lot of people around. As you and Kristen know each other so well, was it easier?


Pattinson - Actually I don't think doing sex scenes is weid. You know that nobody will say anything, the directors don't want to embarrass themselves, they won't tell you how to do it. But it's fun to do them with Kristen, it seems kind of silly. In fact, it becomes more difficult. When you don't know the other person you won't say she's doing something silly, or joke all the time. If you know the person, it's more risky (laughs).



EPOCA - Kristen Stewart said the wedding scene was as if she were living it. How was it for you?

Pattinson - Kind of easy. Especially in the beginning. There was so much expectation because of the dress, paparazzi everywhere that Kristen was very stressed. As she was walking to the altar, and the camera approaching me, I started to get nervous because I saw how shocked she was. So I had to think that I needed to support her and act as if I knew what I was doing (laughs).



EPOCA - With the end approaching, are you thinking "thank God"?


Pattinson - I don't know yet. I'm working non-stop since I finished. I had a month and a half off after four years. I imagine that when the next is released, it will be different. The series left me stuck to the same person I was when I was 21 years old. And when it finishes, I will be 27, will be a very different situation.



EPOCA - Are you planning a vacation?


Pattinson - Not really (laughs). I'm not very good with vacations. I had two months off and I read a million scripts. I didn't find anything, if I had, I would have shortened my vacation (laughs). I like being on set. I'm more relaxed when I'm working.



EPOCA - You have played the same character in five films. Does it happen a lot that you get roles offered to you like Edward? Are you not afraid to be this way forever?


Pattinson - Now, not so much. I think my agent doesn't send me that type of thing, because she knows that I will read one page of something that looks like Twilight and I won't finish it. So she just sends me things that are different. But I was afraid, yes. Almost immediately after finishing Breaking Dawn, I did Cosmopolis, exactly the kind of movie that I was scared of not being able to get it. And it kind of answered my question (laughs). It definitely gave me great confidence to think that there will always be different things, you just need to work for them.



EPOCA - You think that's the direction you want to go? Or would you like to do an action film, for example?


Pattinson - If it's something nice. I feel that I haven't done the movie I really want to do. I do not know what it is, of what type. But I know it exists. I hope to find it soon (laughs).



EPOCA - Do you think that in any future work you will avoid roles that you have to be shirtless?


Pattinson - I have to change my lifestyle if you want to work shirtless. But it seems that every actor in the world is doing a scene like Taylor Lautner. It's crazy. In each film there is a scene where the main actor shows his abs. And I: "Really? You're a regular guy, working at an advertising agency? "(Laughs) It makes no sense, but is a prerequisite for actors now. Maybe I should stay fat...



EPOCA - You Could be more careless with your appearance if you did comedy. Do you want to do comedy?


Pattinson - Even comedians have abs! (laughs) And it is impossible to do comedy. People ask me to do Saturday Night Live as part of the promotion of the films and I say, "No chance! Not in a million years. "It is very frightening.



EPOCA - But you were funny at the MTV Awards.


Pattinson - Oh, my God. I didn't even say half of the joke, it was awful. It was funny when I planned. So I don't want to do Saturday Night Live. I wrote down everything and forgot about the first page, I ruined it.



EPOCA - Do you know what you're going to film next?


Pattinson - I'm deciding what to do in January. But first I will get a six pack (laughs).
Primero Noticias
Yahoo Movies
Movie Network
T4 (Rob's weird encounter with a sparkly sex toy)
Kristen talks with MTV about Rob's album (
YouTube
)