And it's a HOT one!
Best version so far (crisp image)
clip here starts at about 4:15 (intro and behind the scenes before)
Same clip, a bit clearer screen at about 3:50
Close-up of the kiss and the new clip ;)
There's no high res of this footage and it won't be distributed officially
So, we're also adding the transcript for you.
Note says: "Gather as many witnesses as you can, before the snow sticks to the ground. That's when they'll come for us" Alice.
Bella: It's strange...physically I feel like I can demolish a tank, but mentally I just feel drained.
Edward: How about a bath? I've had a bad habit of underestimating you. Every obstacle you've faced, I'd think you couldn't overcome it ...but you just did. You've given me something to fight for... a family. I'll go and get the water running.
New movie stills that come with the iTunes copy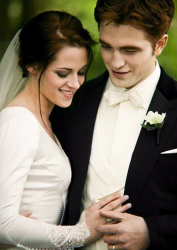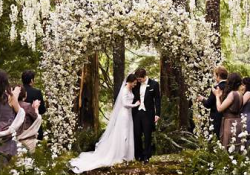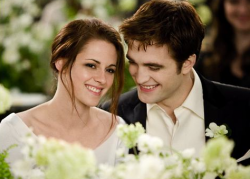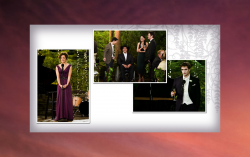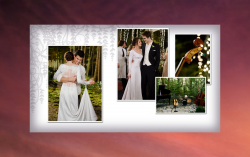 And here's a closer look at the extras you're getting depending on where you get your copy:
Target (authentic prop flowers)
Walmart (fabric poster)
Of course there are many more options with pretty packaging like Best Buy (below) that offer just the DVD/Blu-ray. These just seem to be the best ones.
Finally, kudos to those fans who went all out to celebrate the release of the Breaking Dawn Part 1 DVD and shared their pictures with the world.
We got this tweet from @eplittle: "That's my hubby Jamie! :) I am a lucky gal!" (above). Thanks for sharing!
Congratulations to Jenny who dressed in her wedding gown and won $100 from Target :)
*Proud twilighters all the way*
Let the countdown to the release of the Breaking Dawn Part 2 trailer begin!
caps
via
- pics
via
/
via
/
via
/
via
/
via