Latest interviews at the top of the post!
Detroit Press: Rob talks about how long it's been since he's had Cinnamon Toast Crunch and much more. Read it
here
.
Rob talks Twilight spinoff, Cosmopolis, his luck, in
this great interview
from promo time.
David Cronenberg and Paul Giamatti have some pretty great things to say about working with Rob in interviews with
Oregon Live
//
IFC
//
Indiewire
//
Film School Rejects
.
Director David Cronenberg talks about casting Rob in Cosmopolis with
About.com
.
Rob and David Cronenberg talk to Arizona Central about fans, prostate exams, and Twilight.
Read it now
.
Rob and David Cronenberg's interview with The
Miami Herald
//
Boston Globe
.
David Talks About working with Rob with
Salon
.
ET:
Rob talks preparing for his role in Cosmopolis, and working with David Cronenberg.
Watch on YouTube
or below.
David Cronenberg *really* loves Rob. Hear him talk about just how amazing he is (we agree of course) with
Rotten Tomatoes
// The Playlist /
1
/
2
(in case you missed below)//
Filmmaker Magazine
//
Thompson on Hollywood.
LA Times
: Rob mentions tabloids, Twilight, and paparazzi.
The Playlist:
Rob talks about The Rover and why it's good production doesn't start until January. He also mentions Mission Blacklist -
Great read
!
Associated Press Interview
New Rob and Cronenberg Interview With Next Movie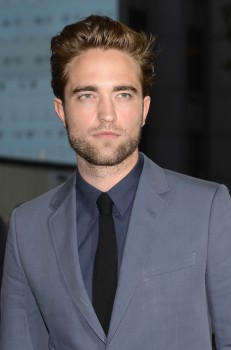 In casting Robert Pattinson, you have an interesting tension between a big percentage of his fanbase — teenage girls, many of them — and a film they might find inscrutable. Is that conflict appealing to you?
David Cronenberg:
It was not really an issue at all, in terms of casting. On the other hand, what was interesting was while we were shooting the movie, all these "Cosmopolis" websites popped up that were created by "Twilight" fans and Rob fans, and they were reading the book and exchanging notes about the book and how it might work in the movie. Really, I wasn't thinking that this was necessarily going to be an audience for this movie, but then I started to think, "Well, some of them, it definitely is going to be." And that was exciting 'cause these are young girls who maybe had read "Twilight" and "Harry Potter," and suddenly they're reading Don DeLillo. That's pretty good.
I don't really have an audience in mind when I'm making a movie ... I'm making it for me and all of us who are excited about the script. I'm making it for an audience, but that's kind of an unknown and amorphous audience, so anybody who's part of that audience is okay with us, let's put it that way.
Robert, knowing that younger fans will cross genres for you, do you worry that you need to choose parts carefully? Is that on your radar?
Robert Pattinson:
It's like I feel a responsibility to myself. If you're doing stuff just purely for money, you're probably disrespecting your audience as well. It's not good for anyone. It's not even really good for you. The only thing I really know is what I think I would find interesting to watch and if I try and make that, I feel like I learn a lot out of doing it and watching it. And so , I don't know, I think I fulfilled my responsibility.
I think you do [have a responsibility] in a lot of ways. Not a massive one. But you know, I think your responsibility can also include failures as well. I mean, you can learn something from doing a sh**ty movie, too.
Before making "Cosmopolis," did you consider the effect your involvement might have on skewing its audience?
RP:
No, I basically was consumed with terror about me being bad in it. I mean, that's what I was thinking right up until Cannes. The night before the premiere at Cannes, David was like, "Oh, yeah. I'm fully expecting walk-outs."
I knew I already liked the movie a lot, but I was still terrified then, mainly because I'm, like, going to have to have a fight with 3,000 people, if they started booing or something [laughs].
Read the rest at the source by clicking here!
Rob and Cronenberg Answer Fan Questions on Cosmopolis Facebook
Moviefone:
Most movie junket interviews do not have hordes of paparazzi and two burly security guards standing outside them. Then again, most junket interviews do not feature a subject who is currently in the midst of a tabloid scandal. Unfortunately, this is where Robert Pattinson finds himself right now, as he attempts to promote his new movie, "Cosmopolis."
Thankfully, if anyone can handle the pressure, Pattinson can. Case in point: when I sat down with him and "Cosmopolis" director David Cronenberg, the 26-year-old "Twilight" star was relaxed, as he discussed his new film and its decidedly more adult tone. The movie, based on the Don DeLillo book of the same name, follows Eric (Pattinson), a billionaire asset manager who takes a ride across town in a limousine to get a haircut. Along the way, he deals with financial loss, random sexual encounters and an angry anti-capitalist, Occupy-esque crowd.
Here, Pattinson and Cronenberg talk about the fandom surrounding "Cosmopolis," the movie's stance against one-percenters and what it's like filming an extended prostate exam in front of the camera.
Considering the anti-capitalist bent in this film, I thought it was ironic that you two were ringing the bell of the NYSE this morning.
David Cronenberg:
It was a much more surreal experience than I thought it was going to be. I thought, Yeah, we're visiting the scene of the crime now, and it's going to be kind of cathartic to ring the alarm bell.
Robert Pattinson:
I am curious to know if anyone had actually seen the movie or had any idea what it was about.
DC:
Yeah! And [people there] seemed so excited about the movie and so excited about us and were very sweet and friendly. Yet it's such a completely different world. It's so familiar to them. I think they think everybody knows all about what they do. And I think the infamy and fame of stock traders and fraud only enhances the idea for them, that everybody knows what's going on. But once you're there you realize "Oh my god. I don't understand anything at all." But it was a very interesting, and I would say ironic [opportunity]. To use that moment, ringing the bell to open the Stock Exchange, for "Cosmopolis," it was very strange. Were we selling out? I don't know [laughs]. They gave us little medals!
TIME
: Rob gives a timeline on his projects (Mission:Blacklist now next summer) - and what he thinks about fans worried about him. -
read interview now
.