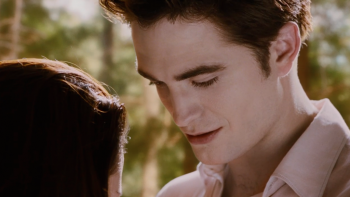 Click for kiss me Edward size ;)
UPDATE: Lionsgate/Summit released a new Edward still and confirmed we'll be getting a sneak peek at the trailer (6am ET) on March 20th! - The Hollywood Reporter also confirmed that those who can't watch it in theaters can catch it online on the 26th (6am ET):
The Twilight Saga: Breaking Dawn - Part 2
will screen a teaser ahead of every showing of
The Hunger Games
, with the full version debuting online the Monday after the opening weekend.
According to the French distributor of Breaking Dawn Part 2, A 10 seconds teaser of the trailer will be online March 20th (on their page).

They add that t

he full trailer will be available March 26th. As you know the trailer is also attached to The Hunger Games, which opens in the U.S. on March 23rd.