Marie Claire Russia
Translation
Los Angeles? 30 minutes with Robert Pattinson? Yes please! I had hardly put down the receiver when the whole editorial group was giving me advice on what to ask him, how to get his autograph or better take a pic with him to brag about it later. But things are not done that way. To get ready for the interview I had to re-watch all the movies of the young star-and not only about Robert Pattinson is English-(his Englishness shows at the very first moment of our meeting)-and he takes care to have almost perfect biography.
He was born in the suburb of London, his mother worked at a model agency, father was a vintage car dealer. He and his sisters went to school where, one day, he got interested in theatre. This innocent hobby later turned him into an actor. But it was not plays that brought fame to Robert but his film roles in which he unexpectedly to himself-he showed a new hero-by depicting intelligent brooding, pleasant paleness, refined manners and vague british romanticism as opposed to rude physical strength and brutality.
That's exactly what I need - a conversation with a handsome intellectual is one "sorry I am a little late, but I had to grab a bite to eat. In hotels I always order the same the "caesar" salad and club sandwich. Such hotel food…." – he adds his disarming smile to these words at the same time not understanding whether to shake my hand or not (a terrible dilemma for an Englishman-at the turn of politeness and political correctness-if I am feminist, he should shake it, if I am old fashioned then I won't like it. And he has no idea how we do these things in Russia) generally he smiles and laughs a lot.
The day before at the press conference the new face of Dior was dressed in strict elegant suit with black turtleneck and looked absolutely respectable, which did not prevent him from having banter with the blackbearded director of the ad Romain Gavras. Today he is dressed more casually-jeans, white tee, grey jumper. A baseball cap. "Yes this is my style, what you see now. I feel comfortable and free, and I highly value freedom" - he answers my question about his preferences in clothing. "Now I have a lot of things to do - I am looking for a new house and this has become a real passion for me . I am looking at different offers on the internet and drive from one place to another. That's why I choose the most habitual and safe clothes. I love mornings, not all mornings… it's good when I don't have to hurry anywhere, when the sun is shining and I can lie and think about the day, make plans... Understand that everything is just beginning... Also I never exercise! Sport in the morning bores me. But boxing in the evening, or even in the afternoon is a different thing. I do box a little and I am going to keep it up if I have enough time."
I think he is a workaholic. Our conversation slowly moves to the topic of cinema… Filming for David Cronenberg…. future plans.."I haven't had what you call a "holiday" for seven years. It would be nice to forget reality sometimes, but to be honest I don't feel really tired. I have come a long way from a second rate part in the Ring of the Nibelungs through Twilight to Cronenberg's Cosmopolis. And how much effort was put in Water For Elephants and Bel Ami. As long as you have drive, the desire to move forward, try new things -I don't want to stop at all. I got lucky because what I do is hardly different from resting, and you should take advantage of that and not count how many days you were working on end. I don't want to lose all this. You are asking what drives me to move forward? Fear. Fear makes me get up in the morning and tells me "get better , don't stop, you should experience this. When you live like this, new opportunities arise all the time. This is what happened with Christian Dior Parfums - for me , taking part in the ad, co operating with this legendary brand became a totally new stage. It is like moving to a new level. On the one hand you understand how much trust they put into you, on the other hand you want to bring something from yourself into this "perfected to the last detail" story. Dior Hommecharacter is a real is a real master of his life, he creates trends, dictates his conditions. At my age these are quite new (but pleasant) feelings. But I have a lot of energy and I am ready to share it. I am ready to live thousand lives: one image today, another one tomorrow. I know nothing about the perfumes but I like this scent".
At times I do manage to talk to him about personal stuff… (well almost personal stuff). Robert speaks openly and very emotionally, skillfully avoiding sensitive issues, not adding details where it is possible. During those 30 minutes he smiles and reacts to my questions with blushes. I am surprised that a man who can blush became an actor. He is the shyest of all the actors I had to interview for the last 4 years. His attractiveness is of completely different nature- there is nothing rude, indecent, openly dominating about him. Even the stubble does not make him " a real man" (macho?). At the same time it is impossible to evade his incredible charm. He oozes male gentleness, desire to understand, warmth and refinement.
"As a kid I wanted to be like my dad, to be as masculine, wise and strong" - Pattinson seems to be reading my thoughts - "with years, dreams became more specific, and I thought I could become a good politician. Why? Because everything seemed like a good game –negotiating with people, resolve conflicts, make speeches. If only you knew what political speeches used to write! What arguments I used to bring! My opponent in the debates was doomed right from the start...then I got interested in music. Of course I don't do it as professionally as my sister Lizzy (she has her band and her Cds are bestselling records in UK) but I still take it quite seriously. Sometimes I think that in the next life I will definitely be a pianist. Imagine: sandy beach-me playing on the grand piano. This is me. Music is always somewhere close. I have been playing the piano since I was four, and the guitar since I was 5. That's why I like so many different genres in music-soul Rock (Dior Homme film uses Whole Lotta Love by Led Zeppelin) the only genre I am not ready to get back to is Rap. There is always place for "if not music, then travelling and books. I like living in hotels, walking in the streets, being at places where people gather. A lot of places have certain associations in my mind: New York - it's Brooklyn, Paris - rain and a little cold, (and don't argue with me – these are my associations!) London – huge number of Russians, Russia-Bulgakov and Nabokov."
I will be honest that at that moment I took the initiative in the conversation and the conversation turned into an express lecture on the history of Russian literature with Robert constantly asking questions and making comments. But timing is timing and I had to ask the main question: " what principles are really important for you in life and is there anything you would like to change?"
"Oh my principles are very simple-be honest with myself, think less about myself and be nice to people. I would like to change so many things-completely give up fast food and play music on the beach…. You remember, right?"
InStyle US
Elle Russia (new pic only)
Click for HQ
Marie Claire Italy
Click for HQ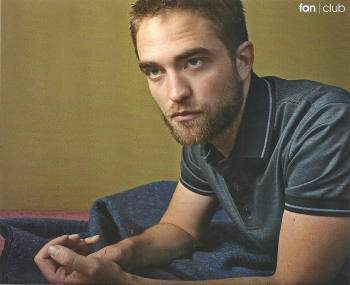 Transcript
via
Our first meeting is coincidental, "Haven't we already met somewhere?". That's the icing on the cake of four days in Los Angeles. As though it weren't enough to have booked into the Beverly Hills Hotel, dined in restaurants with the stars (though seated too far away), and having done all those things that make girl friends burn with envy. But who cares about their curses when Robert Pattinson, the new face of Dior Homme, tells you "I think I've seen you before"? I did indeed meet him five years ago, at the Film Festival in Rome, for the premiere of Twilight. In those days errors of judgement concerning the phenomenon were legion, even as the books of the saga were selling like hot cakes. Perhaps he did not realise he was so famous and, with the watery eyes of a deer caught in the headlights, flanked by Kristen Stewart with her syndrome of the unstoppable leg, he had found himself facing hormonally raging young girls and a platoon of journalists. I was there too, and if he really does remember me I'm ready to put him in for the Mensa admission test. But he explains that he just cannot forget those first encounters. It is that simple.
He dressed casually in those days; will he take more care now? He smiles, his teeth gleaming all the way back, and he points disarmingly at this attire, with his baseball cap back to front, his dark shortsleeved shirt open, revealing a grey t-shirt beneath, and black jeans. "I don't suppose so", he laughs. "I don't feel like spending more time than I have to on what I'm going to wear. I do my shopping as it comes, depending on my mood. I might put on the same things for days on end - after all, it's not like always eating from the same plate. Even a baby's romper suit would be fine, with little buttons on the flap". In actual fact, during the screening of the Dior ad at Soho House the previous evening, he had appeared perfectly at ease (and perfectly handsome) in a dark suit. Do you at least wear the fragance?, I insist. "For the past few days, yes I have!", he laughs. His press agent flashes a stern look; he recovers his composure. "Joking aside, it's something new for me. I tried at the age when you start getting interest in girls and you smother yourself in cheap cologne, and they say 'what's the stink?'. But now I'm learning".
A few hours earlier, I had a word with Romain Gavras, the director of the commercial. "Looks like there's some intrigue between you", I say to Pattinson. "Oh really?, What's he told you?". "That during the sequence when you drive the car on the beach, you had gone straight into the water". He blushes, but he's insanely delighted. "But he also said you're cultured and intelligent", I add. "And that you exchange text messages with things like 'What are you wearing now?'". He bursts out laughing. "It's true! He started it - I couldnt't believe my eyes and I thought 'What? Who the hell's that?' The In answered back, tit for tat. Romain is young and ambitious, but he doesn't take himself too seriously. He has a keen sense of humour and, in his way, he's a bit anarchic. I like him". I see he is not so pale after all. His skin, as smooth as Chinese lacquer, is taking on a Californian tan. What else did I want to ask? Oh yeas: Talking of ambition, you're rich now. How did you spend your first cheque?. "On a guitar. Then on my house in Los Angeles. Better here than in London, my hometown, where they cost too much. I'm not crazy about managing money: I've got a business manager who sees to everything, but I'm not a big spender". Who knows who make his bed every morning in this new house? "Believe it or not, I don't have a home help". So he makes it himself? "No, I don't make it. I just leave it as it is", he grins.
I ask him what people overrate, and underrate in an actor. "They probably think it's a game. But it's really work - great but challenging. On the other hand, I can't understand those stars who say 'no way' when they're asked if their children will follow in their footsteps. They don't realise they've got one of the best jobs in the world, spiritually liberating". He says he still hangs out with his old friends, and I wonder how they cope with his success. "They're great. We have no secret. When I'm with them I rarely have problems with fans, partly because if they see me with them they tend to let me be. But if it does happen, my group becomes protective". I ask him what he considers betrayal by a friend, but he answers that a real friend doesn't betray you, and if he does he isn't. Yet finding new ones cannot be easy for a star. "No, not at all, I can easily see if someone isn't in good faith". I get the feeling he has managed not to disrupt his life - the life he had during that first interview five years ago. He is so calm that one immediately wonders what he was like at school, if anything suggested he might become what he is today. If he was a leader, for example. "I've never been a follower, that's for sure, but not so enthusiastic as to take responsibility of command either. I used to keep to myself". A rebel, like the kids who are rising up all over the world? "To tell the truth, when I was younger I used to think of rebellion as like being drunk all the time. No, that's terrible - just joking!", he quickly corrects himself, rocking with a laughter from head to toe. "But when I think of all the revolts everywhere, I realise how lucky I am. I was born in a country that has no need for revolutions, but not everyone's that fortunate and they have the right to rebel when things aren't going as they should"
He's getting wiser, Rob - less teen, more committed. I'm also getting older. I admit I was a bit worried about what would happen after Twilight. Everything's been going far too well for far too long, and I wonder if this isn't the prelude to something terrible, I've turned 27 - everyone dies at 27". No way! "Yes they do! Jim Morrison, Amy Winehouse, Janis Joplin... And I'll have to wait till May to be 28". he laughs. In any case, they have his "successor", Douglas Booth, in the wings. How does he see him: as an heir or a rival? "I don't even know who I am yet - maybe he can tell me. No, really, this thing of sticking a duplicate onto you as soon as you start getting older is ridiculous". Wasn't he made out to be someone's heir when he started out? "Sure, Jesus. The new messiah". And he bursts out laughing.
I'm now on the set of Maps To The Stars", he continues, "with David Cronenberg. It's a new experience because I've got a smaller part than usual - so far I've always been the lead actor. But that's fine, I still prefer independent productions, I'm not ready for the majors: they take away your freedom. Here, on the other hand, I'm working with Julianne Moore, who's amazing, and the script is fantastic. I love Cronenberg.Videodrome and Scanners are some of my favorite films". Now that he lives in Los Angeles, I ask him, does he think Hollywood manages to represent society? He bites his lip, with a serious look. "No, I don't. The fact it that, in this moment in history, it's hard to portray the contemporary world, even through music. We're in a period of transition. I'm thinking of the 1970s and '80s, which were clearly defined. Even the '90s had grunge. What does 2000 boil down to? The Internet? Mobile phones? Will my generation be remembered with an iPhone in hand, intent on chatting and texting, communicating without saying anything? I'm not even on the social networks, not even under a false name. I tried once, but I deleted my account because it made no sense: my friends couldn't even find me. I felt stupid".
Talking of stupid, I ask him to tell me about one unforgiveacble moment, and one unforgettable one. "The unforgettable one was when my son was born", and he bursts out laughing again. "I'm joking! I don't have children. I think I'll never forget when I was at the Olympic Stadium in Munich to promote The Twilight Saga: New Moon, with the cast. There were 30000 screaming fans and Taylor Lautner, astounded, said 'What the hell's going on?'. Does the unforgiveable one have to involve me?", he grins. "Because, luckily, I don't have one", he says proudly.
Does he sees himself as romantic? I think so. A sort of romantic. Sometimes.", he smiles, mischievously. Then comes a yawn and an "Oh, sorry, you're making me relax", he blushes. I'd like to say he can sit on my knees and I'll sing him a lullaby, but that doesn't seem quite appropriate. Instead, I ask him what he would like to do before he turns 30. "I'd like to come out with a record, I'm writing lots of tracks. And direct a film. I've got a sort of idea in mind, and I'm working on it. I should be able to do it." It's too early to ask what it will be about, but in the meanwhile, does he prefer "and they lived happily ever after" or an open ending? "The latter, without doubt!". Time's up. We get up from the sofa and I extend my hand. He takes it in both of his. "So, see you at the third interview", he says. A kind wish. Outside the door, waiting, there is a lovely young colleague on the phone with her fiancé. No, she reassures him, the handsome vampire is not trying to seduce her. He wouldn't be interested in just a normal girl. she says. Don't you be so sure.
Glamour Italy
Rough translation:
"Do you mind if I chew a piece of gum during the interview?". First info: Robert Pattinson is a polite Hollywood star. Twilight, the vampire saga that made him famous, yielded him a popularity second only to the post-Titanic "DiCaprio-mania". However, Robert remained a 27 year old down-to-earth guy who asks for permission.
And who quickly changes his mind: "Actually, I'm going to spit it: this is disgusting!". He waits for a hint of approval, then rips the corner of a newspaper, wraps in the "gross piece of gum", and smiles, while hiding the "misdeed" with his hands. Second info: Rob, as his friends call him, with his flipped back baseball cap and his three days' stubble , is also funny.
"Do you want to try an Italian one?", I ask him. "Really? Thank you!". He delicately takes the package. While opening it, with his half British half American accent, he reads: "Denti bianchi, sorriso protetto (i.e.: white teeth, protected smile)". He hasn't got a single word, but looks enthusiastic. He tries one, then reclines his head, so all that one can see is his thick eyebrows, and, right below, two blue slits. He whispers: "Yours are much better".
Third info: Pattinson could win anyone over with just one look.
Or even one smile: it happens in the adv for the Dior Homme cologne, of which he recently became spokesperson, taking over Jude Law's role. The commercial begins and, for the first 20 seconds, Robert is serious, thoughtful, intense. Then Camille Rowe, his partner on set, pretends to kiss him, while in fact attempts to bite his lips. That comes unexpected: he smiles, and the public melts. Every woman, no matter her age, secretly wishes to be in the shoes of the only creature who is able to light up the handsome, gloomy guy.
Robert did have such a muse in real life: it was Kristen Stewart, his Twilight co-star. The girl who cheated on him with a filmmaker, then tried everything possible to get back with him, succeeded for a while, but failed in the end. They broke up last May. And, since then, he's looking ahead.
What did the Dior campaign mean for you?
A turning point: for the first time, staring at myself in the screen, I realized I looked like an adult. It was so relieving: I've always been afraid to resemble a 15 year old. In Cosmopolis, for instance, I was wearing a black suit. Pretty manly. Still, I felt like a little boy dressed up as a grown-up.
Well, dressed up or not, you're often indicated as the most glamorous celeb.
What? I'm so boring: I wear the same clothes every day. This Dior jacket, for example: they gave it to me months ago, and I haven't took it off yet. If I could, I'd wear it to go to sleep.
Maybe you should send it to the dry cleaners... What about women instead: what should a girl wear to get your attention?
Hum I'm trying hard not to come up with dirty comments (he laughs). Let's put it this way: whatever she chooses, she needs to own it, and to show she's comfortable in her skin and clothes.
Are you comfortable in your own skin?
I'm not exactly a self-confident person. But right now I feel good: I left Twilight behind, and, with that, my adolescence. I'm now ready to move into the next phase.
What will it be in the new phase?
I see little but thoroughly: no many roles interest me.
Which kind of part looks appealing to you?
Well, all my characters have a dark side. Whereas I'm not dark at all. In general: when I read a script, if I think I'm not good enough to interpret the role, I accept it. I like the challenge.
The next one?
I'm working on Maps to the Stars by David Cronenberg, a movie about how crazy and neurotics actors are, and on THold on to Me by James Marsh, wherein I'll be a drug dealer. It'll be hard - I've never done it before.
Never dealt drugs, you mean?
Not recently (he laughs). I was trying to say that, in real life, I've never been particularly scary. I'll have to learn how to become shady and dangerous.
You imitate others for work but, when you wake up in the morning, do you know who you are?
Please: I often don't even know where I am! Seriously, though, I've never known it for sure, not even before I started acting.
Maybe you began to find it out.
Could be. Playing different roles opens up your mind, about others, but especially about yourself.
You speak about acting as it were a sort of psychoanalysis.
Indeed, it's extremely therapeutic. The ability to break down barriers, to overcome insecurities on set is something very powerful, and empowering; especially for an introverted like me. But I think the same holds true for all actors. I haven't met a single one who is self-confident. We're a bunch of psychopaths.
Have you ever seen a therapist for real?
No, but I'd like to become one. For now I analyze my friends. I like to investigate their subconscious. Or maybe, I simply enjoy minding their business.
Do you have many friends?
In London, where I was born and raised, I have four best friends for life. I'm a lucky guy: four is more than what people normally have. Here in L.A., however, it's harder to gather a little group: people come and go. Plus, we're all actors. I swear, it's crazy: every person you meet is a fucking actor who, by default, is competing with you.
Is there any one whom you hold in high esteem?
My absolute favorite is Jack Nicholson. I used to be obsessed with him: when I was younger I tried to imitate the way he dressed, the way he talked... I also like Joaquin Phoenix and Michael Shannon a lot. And then there's Channing Tatum, who is often undervalued, even though I think he's as good as Marlon Brando.
What about you: have you ever felt undervalued?
Yeah, critics don't appreciate extremely commercial roles. I understand that. But for a while I was fucking scared I would have remained a vampire forever.
That didn't happen.
True: fortunately, I started getting more articulated roles, like my characters in Cosmopolisand in The Rover. And even this occasion that Dior gave me was a privilege: I learnt another way of acting.
What would you have done if you hadn't become an actor?
I would have gone to college to study International Relations, and then I probably would have tried a political career. Even now, I don't completely rule this out.
Which party would you consider getting affiliated with?
I'm a free bird, I'd rather be a dictator (he laughs). I told you I'm weird...
And which laws would you establish in your kingdom?
No one can live here, but me.
Were you born solitary?
I became so. Los Angeles is inherently solitary. Look at the streets: you won't see a community, but a bunch of individuals, each one locked up in his own car. At the beginning I felt a bit lonely, then I got used to it. I actually like it now.
Did you get used to fame as well?
I had to. Until a while ago, I stubbornly tried to live the same life as before. It went poorly: I couldn't go anywhere without being assaulted by a giant amount of fans, so I went nowhere. I was living in a bubble. Then something clicked, and I said to myself: "You have to accept that everything is different now". And I felt relieved, almost immediately. Acceptation is the prerequisite for happiness, or anyway that's what I like to think.
Are you happy?
I accepted, many things. And now I almost feel weird admitting it - because if you say it, then the moment may vanish quickly. But yes, I am happy now.
Madame Le Figaro (France)
Rough Translation:
New icon of Dior Homme cologne, the Twilight star refuse to let fame suck the lifeblood out of him. At 27, the idol who's so British demands his artistic ambition and his fierce hunger for freedom. Meeting with a new wave gentleman.

He's the star of the Twilight saga and only swears by Jean-Luc Godard. He's a hunted idol. He loves nothing more than parties among friends. He's cheerful, pessimistic, daring and anxious.

When you have to do a portrait of Robert Pattinson, you have to point out inconsistencies and try to understand why this 27 years old man, who might not have been armed to face this cannibal fame - gives a particular sense to the word 'freedom'. Some are more free than others, but not him, fighting against a seclusion he's trying to get out of.

One year after the Twilight saga ended - which propelled him amongst the tight group of overpayed actors in Hollywood. The impatient British guy wants to live differently than in the translucent skin of a romantic vampire who electrifies young girls.

At the Beverly Hills Hotel - legendary building in LA, where Marilyn Monroe loved Yves Montand - we got to meet him in a overprotected suite, far from the fans hysteria and inquisitive telescopes. There's an intense feeling in the air. The actor is in a stronghold. Robert Pattinson isn't here to defend a movie this time but a brand new role: ambassador ofDior Homme cologne, after Jude Law. A big surprise for the French house seeing as Pattinson is the young man of the hour, with a pure image and an international aura. He personifies a more boyish and rock'n'roll figure: it's the artist Nan Goldin who shot for the campaign.

First assessment: Robert Pattinson possesses the charm of the more reserved. His outfit? A see-through walls look (jeans and a navy blue shirt). His expression? Askew, observing you like you woudln't think. He stammers his words, doubts and beliefs collide. Robert Pattinson display a nervousness common to vexed smokers - NO SMOKING can be read in his luxurious suite.

In his low voice, weighting every word, the actor express his need to make an about-turn: "When you're hit by a phenomenon like Twilight, it's difficult to imagine living differently afterwards in the mind of the audience. I thought I woudln't make it out... Such a success can become a golden prison. I'm aware to be at a crucial stage in my life. All the choices I make today will define my future forever. The pressure is huge, I'm constantly wondering: 'did I make the right choice?' But at the same time, I can let fear control me.""

His transformation started last year in Cosmopolis, by David Cronenberg. With the role of a powerful trader who observes the end of the capitalism inside his limousine, he got to read a new category. Somthing more serious, at the risk of perturbing his 12 years old fans. "Cosmopolis is the movie of my life. I didn't consider myself an actor before, even if I had 10 years of acting behind me. I always felt like a fraud, and inappropriate. I doubt a lot. David Cronenberg gave me confidence in myself. He changed my way of acting and thinking in this industry."

The movie shown at the Cannes Film Festival is praised by the critics and awarded him a sure credibility. Until now, his dramatic efforts went unnoticed. Was it the curse of the beautiful? "Americains don't really know about Cannes or they don't care but for an English guy like me, it's a essential. As a kid, I would daydream in front of the pictures of the event and I collected the DVDs of the movies awarded. At Cannes, everything felt right because I was recognized by my peers."

Since then, Rob is trying to free himself of the ties that shackle him to the free of risks paths.

From now on, he reveals his artistic nature with more daring choices. This experienced movie buff, who counts Jacques Audiard amongst his favorite directors, just finished filming five movies all different from each other, from cinema d'auteur to smart blockbuster. It's The Rover, a futuristic western by the young Australian director David Michôd (Animal Kingdom). Then a biopic about the explorer, Gertrude Bell, Queen of The Desert, in which he plays Lawrence of Arabia. He'll see him too in Hold on to Me, a drama with Carey Mulligan and then a psychological thriller: Mission: Blacklist, by Eric Maddox.

But the project that pleases him the most is the one that reunites him with his mentor, David Cronenberg. Indeed, he finished shooting Maps to the Stars with Viggo Mortensen and Julianne Moore. "I've worked with directors that forgot along the way the very idea of their own project. WIth David, we can be sure that in the end there will be a movie with all its contents, which is rare. After 40 years in this profession, he still cares about what he does with the same level of requirement he had at the beginning of his career. I'd like to be like him one day."

Presented as 'satirical and extreme" by the Canadian director, the movie offers a cynical view on the faults of Hollywood. "It's a cutting comedy, dark and seriously funny, pleads Robert Pattinson. The subject alludes to how easy it is for actors to become crazy in this industry. It's rude but true." Laughing, he adds: "Of course, we're talking about stars that aren't here anymore. Don't think this still happens!"

Starting with the dangers of the star systeme, Robert Pattinson doesn't ignore a thing. Indeed, for him who became overnight the object of a crazy culte, when he couldn't get out of his house without getting mobbed by dangerous groupies. He whose comings and goings are shot by an army of paparazzis who track him non-stop. He whose break-up with Kristen Stewart made the headlines of all the tabloids.

In an era where visibility and exhibitionist tweets are glorified, Robert Pattinson is trying to lock down methodically everything surrounding his private life.

A course of action... more like a matter of survival. "It's violent, it's bizarre... I've wanted for a long time to keep a normal life, the one before Twilight. I finally understood that it was no use to fight. It's not possible, that's it. I think I would have loved living the fame when the internet and twitter didn't exist. Today, everyone can take your picture, wherever, and whenever. Everyone can make you say everything and its opposite while hiding behind a computer screen."

Born in London with a well off family, Pattinson isn't from the inner circle. His mother works in a model agency and his dad imports collector's cars. He has two older sisters. "My family and my close ones are my pivotal point, with them no pretence is possible."

Musician, he joins a theater class almost by accident. He isn't trying to construct his legend after the facts, but tells his initiative with honesty: "I was riden by shyness. One day, in a restaurant, my dad overheard a group of pretty girls talking about theater classes. He told me: 'Go sign yourself up! You could meet someone!' I did it... and it didn't end badly!" Four years later, he becomes Harry Potter's (Daniel Radcliffe) friend in the fourth part of the wizards saga. Then... nothing. Three years of unsuccessful auditions.

When Robert Pattinson finally lends the role in Twilight, he was about to give up on acting. More than anyone, he knows that success is fragile. It might be why he waves away every outside sign of stardom.

Now he's at the head of the A-list of actors who matter in Hollywood. He's said to be bankable to the point where a movie can be built on his name alone. It amuses him. "You know, I still have auditions to go to, to convince directors that I'm the man for the job. Not even six months ago, I was told no. For The Rover, I had to fight to get the role. I was hired and I really hope it'll be a big movie because I loved shooting it." He adds: "I owe a lot to luck. I never thought any of this would happen but I never doubted either that nice thing were waiting for me."

His biggest fear? Dishonourable behaviour. "I admire actors like Joaquin Phoenix or Daniel Day-Lewis because they only do their job and very well too. They're actors as a whole, with insane precision. That's all I wanna be: an actor." Robert Pattinson frees himself, even of his own reluctance. Until now, he refused fiercly every proposition for a commercial campaign. He accepted to become the new face of Dior Homme after Jude Law.

When it comes to explain this paradox, the star doesn't shy away: "I always found it dangerous for an actor to be associated with a commerical product because it sucks the life out of your image. But I matured, I evolved and the fact that Dior gave me free reign to carry out an artistic project, well I was convinced. I loved their boldness and their creativity. I wanted to treat this publicity like a short film. When I saw the first images of the campaign, when I saw myself, I thought that maybe I was starting a new chapter in my life..."

Pattinson chose to work with the French producer Romain Gavras. The short film in black and white is elegant, heady with energy, its contemporary aesthetics - very Nouvelle Vague - seduces. All of it balanced by the blaring sound of Whole Lotta Love by Led Zepplin. Sexy, Robert Pattinson personifies a man who wants to live thousands of lives; intensely, and wants to love completely, even if he knows he only gets to have one. Not to forbid himself anything, to explore his emotions, to ignore the norms... such are the goals of Robert Pattinson, free and in a hurry to write his own story.